Other Banking Services
In addition to our many choices in checking accounts, savings plans and loan programs, First Savings Bank of Hegewisch offers a number of services to give you the best in banking value and convenience. These include:
Direct Deposit of payroll, Social Security and other regularly recurring payments
Automatic Savings Program
Combined Statement Reporting
Money Orders
Wire Transfers
Directo-a-Mexico
Safe Deposit Boxes (Main Office; Highland Office; St. John Office)
Night Depository
Visa Debit & ATM Cards
Access your funds with a FSBH ATM Card or a FSBH Visa® Debit Card 24 hours a day. FSBH Visa® Debit Cards are EMV chip enabled for added safety. It's faster, safer and easier than cash or checks. Use your Visa® Debit Card for almost everything – your checking statement will tell you where all the money goes.
Digital Wallet - Tokenized Debit Card:
With FSBH's Visa® Debit card you can make payments at participating merchants without your physical card. Use Apple Pay®, Samsung Pay® or Google Pay® to make payments with your mobile device. Simply add your card to your digital wallet. If you do not have a digital wallet you can download Apple Pay® through the Apple Store or Samsung Pay® and Google Pay® through the Play Store.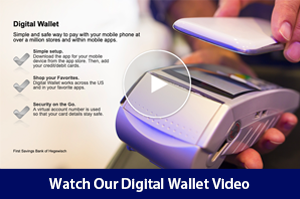 Contactless Card Feature:
Our new FSBH Visa® Debit cards support contactless Transactions. Contactless means you do not have to insert your card into the point-of-sale terminal and wait. It saves you time every time you tap.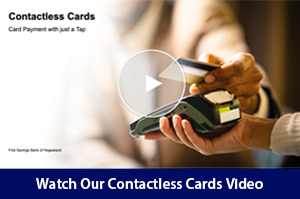 Look for the contactless symbol on the payment terminal.
Tap your card on the front of the POS terminal.
Wait for a beep or green light before removing your card.
Follow any instructions on the screen (you may be asked to sign or enter your PIN.

Contact a personal banker if your card does not have the contactless feature and you want to learn more.
Lost or Stolen Cards:
To report an ATM or FSBH Visa® Debit Card as lost or stolen please contact us at (800) 752-8382. If it is after normal business hours, please call (800) 554-8969. Please have your card number available when calling.
Check Reorders
Re-order your FSBH checks in an efficient and user-friendly manner through our on-line check re-order system. Note: Free Checking Account orders must be placed with a First Savings Bank of Hegewisch representative.
Click on the link below to start the order process. You will be taken to our check processor, Deluxe to start the order process. You will be asked to provide your routing and account number, as well as your zip code. Please call (800) 752-8382 if you need any assistance. You may also visit any one of our branch locations for assistance.
Travel Information
Planning a trip outside the United States? Make sure your next trip is as hassle free as possible! Notify us of your travel plans prior to departure to ensure your debit card is not blocked. Without notification your card could be blocked by the fraud monitoring system. Contact us at (800) 752-8382.