My Cards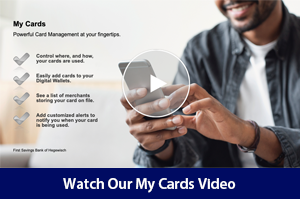 Safeguard your card from fraud.
Simplified reporting of lost or stolen cards
Turn your card on or off instantly.
Create your own travel plan rules.
Establish transaction controls for dollar amount limits, merchant categories, and geographic locations.
Receive text alerts when your debit card is used, approved or exceeds transactions set by you.
Stay informed of potential fraud with alerts on attempted or declined transactions.
Monitor your finances from anywhere.
Enriched transactions to clearly see where your purchases are made.
Track spending by month, category and more.
Recurring payment visibility for subscriptions and cards on file with merchants.
Control your debit card via your mobile device.
Notifi®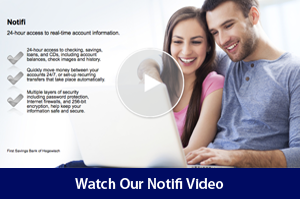 Protect yourself from fraud by using FSBH's Notifi® product. With these SecureAlerts, FSBH lets you know the moment something important happens in your account. With SecureAlerts, when it happens, you know. Talk about a feeling of security.
You choose how you want to receive the alert (a text message, an email, our Mobile App, or the Online Banking inbox). Select one or more methods, or select them all. Choose from dozens of account activity alerts categorized by Security, Balance, Transaction, Transfers, and more. Receive alerts when:
A purchase using your debit card occurs.
An ATM withdrawal is made.
A check clears that exceeds the threshold amount you set.
Transfers post to your accounts.
Online banking password was changed.
Your address was changed.
Account balance drops below a threshold amount you set.
Loan payments are due.
And many more!
Text messaging rates may apply depending on carrier fees and plans
Report a Lost or Stolen Card
To report an ATM or FSBH Visa® Debit Card as lost or stolen please contact us at (800) 752-8382. If it is after normal business hours, please call (800) 554-8969. Please have your card number available when calling.
Internet & Mobile Security
First Savings Bank of Hegewisch is committed to maintaining the privacy and security of our client's information. We will NEVER call or email you requesting personal information or ask for your Access ID or password.
Please contact us immediately at 800-752-8382 if you believe your online banking service, Access ID, and/or Password have been compromised or you have provided personal and/or account related information through a suspicious email or Pop-Up.
OnGuardOnline.gov is the federal government's website to help you be safe, secure and responsible online.
General Computer Security
Require a password to gain access. Log off or lock your computer when not in use.
Update your software frequently to ensure you have the latest security patches. This includes your computer's operating system and other installed software (e.g. Web Browsers, Adobe Flash Player, Adobe Reader, Java, Microsoft Office, etc.). Automate software updates, to when the software supports it, to ensure updates are not overlooked.
Back up your data and store backups in a different location from your computer.
Maintain active and up-to-date antivirus protection provided by a reputable vendor. Schedule regular scans of your computer in addition to real-time scanning.
If you suspect your computer is infected with malware, discontinue using it for banking, shopping, or other activities involving sensitive information. Use security software and/or professional help to find and remove malware.
Use firewalls on your local network to add another layer of protection for all the devices that connect through the firewall (e.g. PCs, smartphones, and tablets).
Internet Security Tips
Avoid using public computers or public wireless access points for accessing Online Banking.
Only give sensitive information to websites using encryption so your information is protected as it travels across the Internet. Verify the web address begins with "https://" (the "s" is for secure) rather than just "http://." Some browsers also display a closed padlock.
Never click on suspicious links in emails, tweets, posts, or online advertising. Links can take you to a different website than their labels indicate. Typing an address in your browser instead of clicking a link in an email is a safer alternative.
Be cautious about opening any attachment or downloading any files from emails you receive, regardless of who sent them.
Never give out your personal information (name, address, social security number, account number, credit card number, etc.) in response to an unsolicited phone call, fax or email, no matter how official it may seem.
Never reply to a link on a Pop-Up message that requests confidential information. Legitimate companies do not ask for this information via email.
Never respond to an email that warns of dire consequences unless you provide information immediately.
Do not trust sites with certificate warnings or errors. These messages could be caused by your connection being intercepted or the web server misrepresenting its identity. Email is not a secure method of transmitting personal information.
Always "Sign out" or "Log off" of password-protected websites when finished to prevent unauthorized access. Simply closing the browser window may not actually end your session.
Mobile Security Tips
Lock the device. Configure your device to require a passcode to gain access if this feature is supported on your device.
Do not store sensitive information on your mobile device. If your device is lost or stolen your personal and account information could be compromised.
Keep your mobile device's software up-to-date. Accept the patches - Similar to PCs, mobile phones need to be patched often to eliminate vulnerabilities found since the phone's release. Use the automatic update option if one is available.
Secure your Internet connection. Connect to networks using the highest level of security available, such as WPA2 for wireless networks. Connecting to unknown, open wireless networks is very risky.
Avoid questionable Apps. Download Apps only from trusted App stores and stick with the more popular apps. Review the privacy policy and data access of any applications (Apps) you wish to download; before installing them.
Back up your data.
Disable features such as Bluetooth and Wi-Fi when not actively in use. Set Bluetooth-enabled devices to "non-discoverable" when Bluetooth is enabled.
"Sign out" or "Log off" when finished with an app rather than just closing it.
Delete all information stored on the device before turning in or selling your phone. Use the "factory reset" function to permanently erase all content and settings stored on the device.